N2 - Sentiero Natura 2 degli Abies nebrodensis - Quacella
N2 - Sentiero Natura 2 degli Abies nebrodensis - Quacella
From Polizzi Generosa take the S.P. 119 in direction to the beautiful "Quacella Amphitheatre" up to a gate placed around km 8 on the right. Walk past it and get onto a track leading to Vallone Madonna degli Angeli. An emblematic and meaningful place, in Vallone Madonna degli Angeli there are just over 20 local Fir relict plants, unique in the world and considered being in danger of extinction. After about 1.5 km, on a trail bend, a path branches off to the right and after another km you will see the Abies first samples, all rigorously catalogued and protected, easily recognizable by the bell foliage, from particular cones, and from its twigs arranged in a cross.

Nature
Flora and fauna

Naturalistic

Trekking
Points along the trail
Abies Nebrodensis
Once endemic in northern Sicily mountains, the Abies nebrodensis had been considered extinct since 1900. It...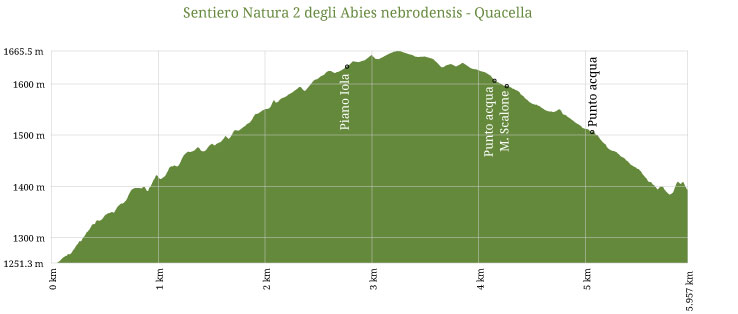 Trail lenght: 6 Km and 44 meters
Return Journey time: 3 Hours
Trailhead elevation: 1244 m/slm
End of the trail elevation: 1403 m/slm
Recommended seasons: Autumn | Spring | Summer
---
You may be also intersted in...
---
Users photos
No photos available for this point of interest