G8 - Sentiero Geologico "Le pietre e l'acqua" (Gipsi - Area Archeologica Muratore)
G8 - Sentiero Geologico "Le pietre e l'acqua" (Gipsi - Area Archeologica Muratore)
"Stones and water" is one of the itineraries created to offer the visitors to the Geopark a quality service. A Geopark is a site with great geological interesting features in a territory environment supported by a E.U. programme favouring its development. The geological trails set into the borders of the Madonie Park, have a fundamental importance which gives the opportunity of either a general or a detailed knowledge of the Madonie area in which the Geopark lies. The whole itinerary is divided into three routes or walks.Two of these walks are situated in the municipal town area of Castellana Sicula and the third one is inside the area of Petralia Sottana.
The particularity of these routes, realised also in anthropic zones, is that they link in a natural way naturalistic and geological aspects together with the testimony of man. The itinerary "Stones and water" has also another originality; it results from an idea shared with students and teachers of the Comprehensive Institute of Petralia Sottana in collaboration with the GEA association. In fact, the base model of the itinerary was outlined during the teaching labs of the environmental education project "Water that flows, water for life", performed in the centre of environmental education "The land of our forefathers" in the school year 2003-2004.
This stretch runs from Tufo Gipsy to Muratore Archaeological Area in Castellana Sicula territory.

Nature
Culture
Cultural
Geologic

Landscapes and Geology

Trekking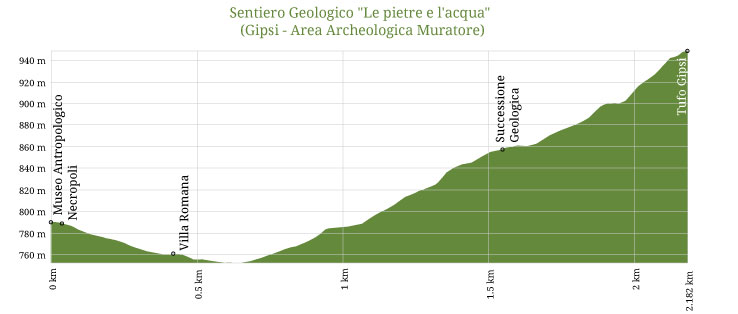 Trail lenght: 2 Km and 175 meters
Return Journey time: 1 Hour
Trailhead elevation: 781 m/slm
End of the trail elevation: 939 m/slm
Recommended seasons: Autumn | Spring | Summer
Useful informations
PA-CT A19 Highway (Tremonzelli exit), direction Castellana Sicula. Reached Castellana Sicula, you can find the "Tufo Gipsi - Area Archeologica" footpath starting point at the Environment Education Centre (adjacent to the communal palestra).
---
You may be also intersted in...
---
Users photos
No photos available for this point of interest