551 - Sentiero Pizzo Carbonara
551 - Sentiero Pizzo Carbonara
It's the ascent to Sicily second highest peak, after mount Etna in fact Pizzo Carbonara is the highest mountain with its 1979 meters above sea level. It is a rather difficult trail to be travelled only in case of good visibility because the paths are not always visible. From the Pizzo Carbonara top you can enjoy a breathtaking view of almost the whole island and an amazing karst landscape, almost lunar, of these rugged mountains marked by alternating basilisk mountain pastures and sinkholes colonized by beech forest and rare endemic vegetation like the Nebrodi Violet, exclusive of these places, the ephemeral Viola Piccinina, the mountain Linen, the Nebrodi Alyssum, the Gasparrini Euphorbia. Outflanking Pizzo Antenna from East to West, you reach Piano Principessa, a plain scattered with sinkholes and green terraces, from where turning left and passing near by Pizzo Palermo at 1964 meters above sea level, you will reach the Pizzo Carbonara top, located between the former "Faggeta Madonia reserve" beeches where there are, in addition to great beauty and development specimens, a series of unimaginable sinkholes. This place is also important for its the fauna, being inhabitated by a substantial amount of nesting birds and numerous others entomological endemic appearances.

Nature
Geologic

Landscapes and Geology

Trekking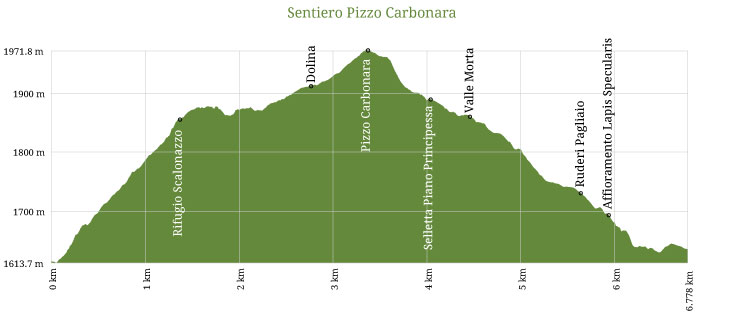 Trail lenght: 5 Km and 682 meters
Return Journey time: 3 Hours
Trailhead elevation: 1615 m/slm
End of the trail elevation: 1630 m/slm
Recommended seasons: Autumn | Spring | Summer
---
You may be also intersted in...
---
Users photos
No photos available for this point of interest