626 - Sentiero Vallone dei Molini (San Mauro Castelverde)
626 - Sentiero Vallone dei Molini (San Mauro Castelverde)
The "Vallone dei Mulini" (valley of the mills) trail is called like that because in the "Torrente Giardinello" area there are many mills, industrial archaeology findings, and it winds through lush vegetation and along the river. The most important of these mills is the "Mulino Mazzara", which is located 810 meters above sea level, completely surrounded by vegetation: in this place majestic willows and ferns gifts stand out. The mill is one of the most preserved in the territory and it is integrated into the surrounding environment thanks to the lush vegetation that has incorporated it.

Nature
Cultural

Trekking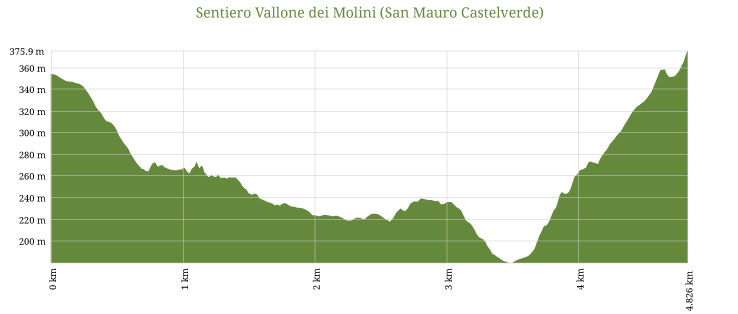 Trail lenght: 4 Km and 824 meters
Return Journey time: 2 Hours
Trailhead elevation: 351 m/slm
End of the trail elevation: 382 m/slm
Recommended seasons: Autumn | Spring | Summer
---
You may be also intersted in...
---
Users photos
No photos available for this point of interest