503 - Bomes (Favara e Granza)
503 - Bomes (Favara e Granza)
Who wants a more challenging trail, beginning in Slafani Bagni can follow the trail that connects the town to the Natural Reserve of the "Bosco di Favara e della Granza".
From the town the path goes downhill to the river "Torrente Salito" and then climb up near the mill named "Molino Giardinello". It goes around the Cozzo Croce peak and arrives to Case Razio, where the trail reaches the Bomes lake. The less adventurous ones can reach Case Razio with car, thanks to a road departing from SS 120 at the 20 km mark, near a group of houses nearby C. Granza Sottana.

The path goes inside the woods, touching hundred years old oaks and almost suddenly reaching the Bomes lake, an enchanted land invisible to the eye until the very last moment. Depending on the season it's full of water or dry (in the middle of summer), but it's always fascinating and with uncommon flora and fauna.
Along the provincial road 7, at the roadhouse, the path leads into the woods of Favara. After a few hundreds of meters, other trails let you visit these natural woods in which the durmast outnumbers the other oaks.
You can notice the presence of the shrubs that reacted to the pastures better than any other small plant. The attention is not distracted from the views to the other sides, but focuses on the vegetation details, on the close proximity to the pastures, arable lands, woods and maquis (Macchia Mediterranea), that resembles the Garrigue.

Nature
Flora and fauna

Naturalistic

Landscapes and Geology

Trekking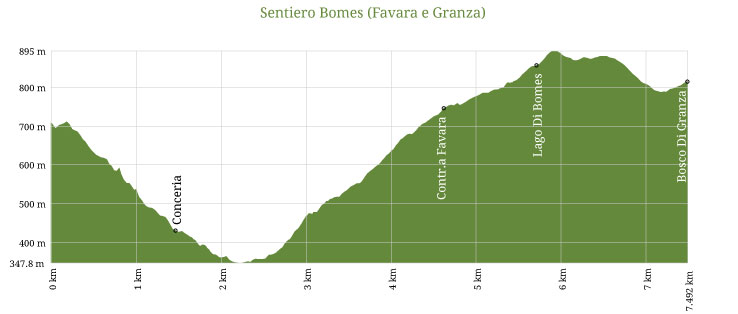 Trail lenght: 7 Km and 490 meters
Return Journey time: 3 Hours
Trailhead elevation: 718 m/slm
End of the trail elevation: 813 m/slm
Recommended seasons: Autumn | Spring | Summer
---
You may be also intersted in...
---
Users photos
No photos available for this point of interest